Hypnosis for Reducing Stress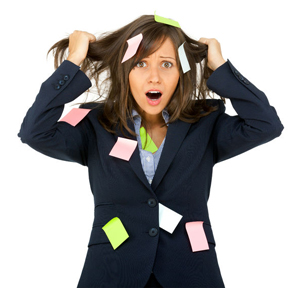 Stress has become so common place we have perhaps become numb to the debilitating effects of stress.  Stress raises our cortisol levels, which slows our metabolism and causes our bodies not to function optimally.  The demands of daily living combined with our belief system can be some of the culprit behind the stress we are experiencing in our lives.
I've personally experienced so much stress in my life, that at 37, it really made me ill.  Stress eventually takes a toll on the body. Stressful thinking is actually a learned behavior.  A sense that comes from fear and perhaps lack.  Fear of not being good enough, fear of not having enough, fear of not meeting the expectations of others.  As a mom of three, I think back to when my children were young.  I had to work, manage the house, manage the kids, and then find time to somehow re-nurture myself, which was nearly impossible due to the unrealistic expectations I placed upon myself.   When low self esteem is present, stressful thoughts can have a field day in the mind.
The good news is if we can learn a new behavior, perhaps new ways of thinking, we can actually reduce our stress. Hypnotherapy can be used to help create mindful living skills.  Self Hypnosis is a wonderful tool to help you relax, and look at things from a completely different perspective.  Change the mind, change the experience.  When you learn to develop mindful living skills you can automatically increase your productivity, improve your health, and most of all have a higher impact on your loved ones.  The demands of your life may be many, I know they are for me.  It is how we choose to interpret and respond to those demands that can make the difference from chaos to peace.
Contact me to learn more about how hypnotherapy and hypnosis can help you reduce your stress, clear the chaos and experience a more fulfilled life through mindfully living in the intention of peace.